Picture Perfect: Preparing Your Home for Real Estate Photography
Posted by Jordan White on Tuesday, December 14, 2021 at 10:04 AM
By Jordan White / December 14, 2021
Comment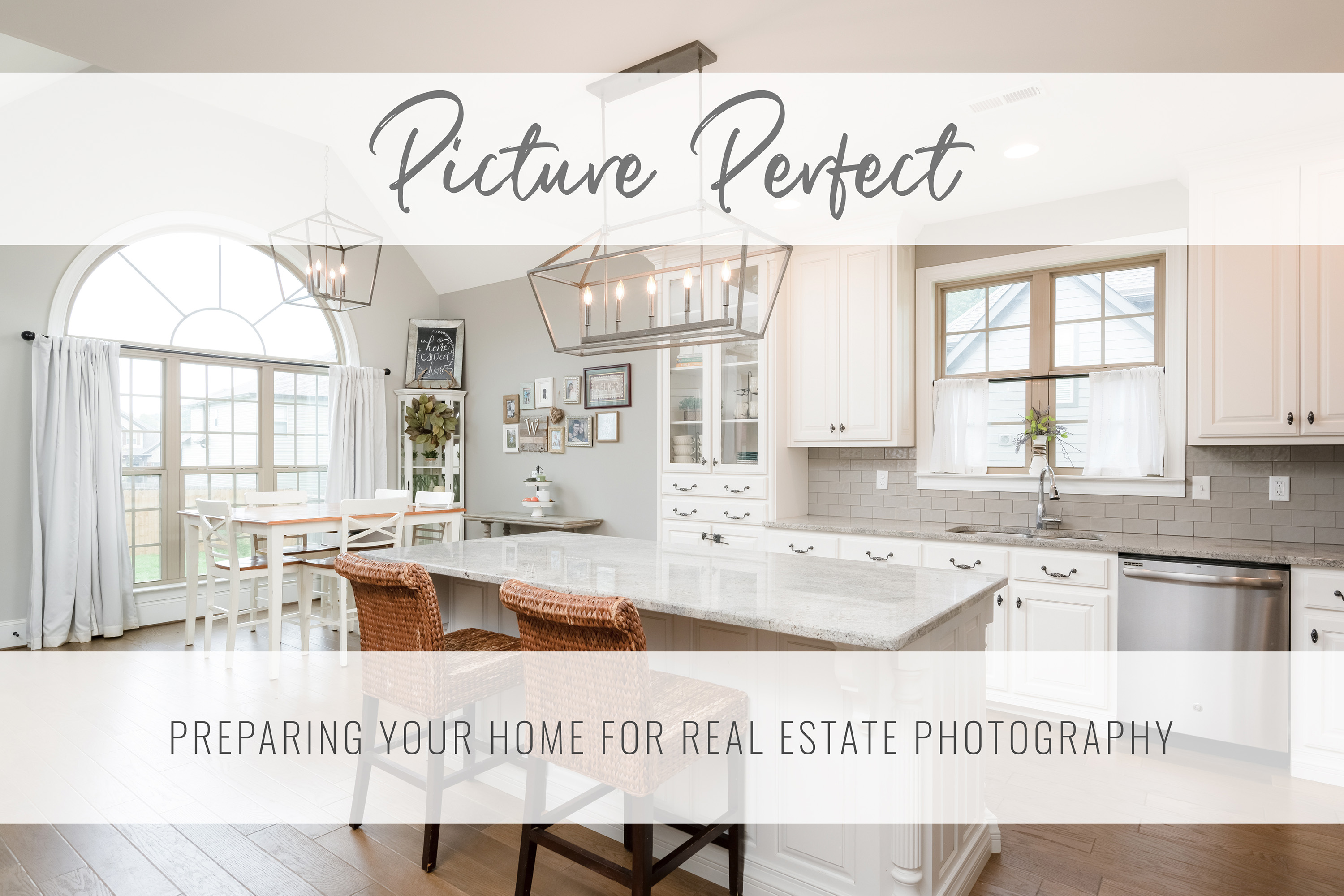 First impressions are everything! When selling your home, photos are usually the first thing a potential buyer sees. Making sure your home is photo ready can make a big difference in how many buyers are interested in seeing it once it's for sale.
Not everyone is a professional home stager or interior designer. But don't worry! These tips and tricks will help you quickly be ready for your photo appointment:
General Tips:
Anything that needs to be tucked away or hidden may be placed in cabinets, drawers, closets, or inside tub showers as we will not photograph these areas. When in doubt, white/neutrals with solid patterns are always best for towels, curtains, pillows and bedding, etc.

Turn on all interior and exterior lights, including any lamps and overheads. Be sure to replace burned out bulbs.
Open all blinds and have them in the same position, preferably all the way down covering the entirety of the window, and open all curtains.
Turn off all fans, TVs, or anything else that might move and be distracting in a photo.
Remove any doormats or unnecessary rugs. Flooring is a huge selling point – make sure potential buyers can see them as much as possible!
Declutter as much as possible. Excess furniture, wall art/photos, accessories and other objects make rooms appear smaller and do not photograph well.
Remove pets, toys, beds, water, food, etc. during the photo appointment. Many of us have a special furry friend in our life, but some buyers are turned away by indoor animals.

Kitchen:
Clear everything off countertops. This includes smaller appliances (coffee pots, mixers, etc.), knife blocks, cutting boards, soaps and sponges, food and utensils.
Remove any photos, calendars, magnets, etc. from refrigerator
Remove dishes from sink
Hide trash cans
Wipe down appliances to be free of fingerprints and smudges
Dining Room:
Remove excess photos/wall decor. Focus on having one main art piece.
Simplify china cabinets and create balance with even amounts of plates/cups on each side
Try to display only white or clear china
Fully set table with simple dishware (clear/white/solid color), wine glasses, silverware, chargers/placemats, table runners and/or centerpiece.
Ensure table is centered in dining room under light fixture
Bathrooms:
Clear everything off countertops. This includes toothbrushes and holders, soap, toiletries, etc.
White towels only on towel hangers. If you don't have white towels, cream or grey solid towels are a great alternative.
Remove toilet paper from holder and hide any additional toilet paper that may be on stand/holder.
Clean mirrors and countertops

Bedrooms:
Tidy up/declutter nightstands and dressers. Lamps, photo frames, alarm clocks, and a few books are good to leave as they photograph well.
Smooth out bedding and fluff pillows sitting them in an upright position
Ensure all clothing/hamper is tucked away in drawer or closet
Outside:
Remove vehicles from the driveway. Do not park in front of the property. Try to move at least as far as your neighbor's house.
Hide garbage cans, hoses, lawn mowers and any other lawn equipment that may be distracting. May be stored in garages as we do not photograph them.
Mow yard and sweep/blow off sidewalks, patios, decks and porches
Stage outdoor furniture with outdoor pillows and plants. Wipe off/pressure wash if needed
Uncover grills and firepits and open up patio umbrellas.
Mulch flower beds and trim bushes or plant flowers if necessary

At a minimum, the house should at least look clean and organized. Marketing is the most important part of selling your home. It begins with preparation, and going the extra mile and taking these additional steps will make your home look more inviting. When paired with a professional photographer, the photos will draw more attention, which more often leads to showings and quicker offers. So give your home some love to make it photo ready and it'll be sure to get it sold!